THE LAST OF THE HEADHUNTERS
India. State of Nagaland. Kohima. Tribal & Indigenous communities. Ethnology. Anthropology, Headhunting. Christianity.  Colonization. Languages. Tribal identity. Internal conflicts. Northeast India. Tribal Arts. Preservation of Indigenous Cultures. Cultures Survival.
To purchase a copy of this film  on DVD or streaming formats, click on the Purchase Film button:
NAGALAND The Last of the Headhunters
A film by Patrick Morell
Golden Rabbit Films LLC
color, 70 minutes, 2012
with English subtitles
This film is an exploration of the Naga people, today in  the Nagaland Region, which extends from Northeast India into Northern Myanmar. "Nagaland, the Last of the Headhunters" re-actualizes the memory of headhunting days and the rituals which existed until the late 1960s. The sixteen Naga tribes still living in these remote forests have similar cultures and traditions, and comprise the major ethnic group in the Indian state of Nagaland, with a significant presence in Manipur, Arunachal Pradesh as well as a small population in Assam.
The film also examines how Naga society has adapted to survive in contemporary times caught between a lingering insurrection in the northern part of the state and the intrusion of the modern world through its southern capital Kohima and the state of Manipur.
Interviews with community leaders and scenes of daily life balance the memory of these rituals and bear witness to how this traditional lifestyle blends with the intrusive modern world and the Christian values that the first missionaries introduced at the end of the 19th century.
Through these paradigms, the film conveys a deeper understanding and clearer perception of the complexity and richness of these tribal cultures.
Completed in 2012, the film's US Premiere was at the 37th Annual Margaret Mead Film Festival at the American Museum of Natural History in New York City- November 2012.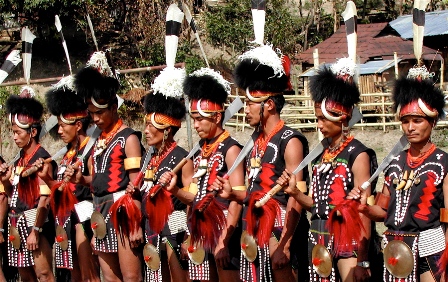 To purchase a copy of this film  on DVD or streaming formats, click on the Purchase Film button: