Golden Rabbit Films is an independent film production which is  dedicated to making films that evoke a deeper understanding of the human experience with all its complexities across diverse topics.
Subjects covered include wars, natural and man- made disasters, and regions of environmental concerns.
Films are produced for  worldwide distribution whether it is broadcast or educative institutions.
Universities. Cultural institutions. Museums and private collections.
Our range of experience covers long and short films as well as film series. 
In parallel, Golden Rabbit Films provides services for a wide array of international clients and televisions channels in Europe, Asia and in the US with high quality stock footage covering a wide selection of countries and subjects (e.g. Natural Sites of Special Interest in many  international subjects including Archaeological and Ancient Sites, Art Exhibits, Sacred Cities, Wildlife, Wars, and Tribal lands. 

For stock footage libraries please go to: 
http://patrickmorell.com
 
Golden Rabbit Films also offers camera services for shooting special events including weddings, art openings, biographies, and symposiums.
Please contact us for all requests: 
https://goldenrabbitfilms.com/contact/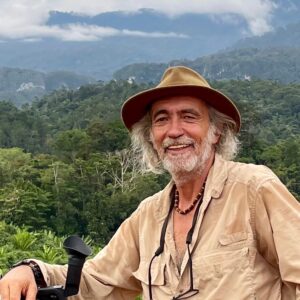 Patrick Morell was born  in the rugged mountains of Les Vosges in eastern France.
Since an early age,  he has traveled extensively, throughout the USA, Europe, the Middle East and Asia for more than 30 years. After completion of Film operating and Editing studies in Paris, (Ecole Louis Lumiere and IDHEC, ex LA FEMIS), and philosophy and journalism (Sorbonne/Vincennes) Patrick traveled to the Western United States.
He gained film experience as a freelance cameraman (16m/m, 35 m/m), filming features and commercials programs for independent films companies such as Masai Films (Marin County), the San Francisco Film Company and Grant Productions in Sacramento.
In Los Angeles, he provided advisory services in documentary film classes at UCLA and also worked as an actor, from 1985 to 1991, with minor roles in "So I Married an Ax Murderer" and "The Last of the Mohicans." 1991.


Patrick has filmed art videos as well as educational and institutional programs for several video production companies in New York City such as Visual Arts Productions International, A.C.T (Art, Cultures & Technologies), Video 35, Maysles Films, Blue Water Productions,  and Knight Productions in Washington DC. He has performed corporate video assignments with companies including Suez Environment in France, the Shomburg Center for research in  Black Culture in New York, and the Smithsonian in Washington DC.


His  work in the last 15 years, as an independent filmmaker and/or freelance cameraman, features a wide array of International documentaries for European television (Arte France, TV 5 France, Studio 21 Sarajevo) and for US broadcasting (PBS, Discovery Channel, and HBO).
He continues to travel extensively in the USA, Europe, the Arctic circle (Alaska / Greenland) South East Asia and Asia (India / Nagaland / Nepal/ China), the Middle East (Jordan / Lebanon / Syria),  Africa ( Egypt /Sudan) and most recently in Indonesian Borneo (Kalimantan) .
In these travels he scouts locations, shoots material, and investigates stories.


He is currently based in New York City and in Princeton, New Jersey.


See for more at: 
https://patrickmorell.com/pre-production/